Read this first:
http://www.infamoussocietyclan.com/t3348-read-me-application-requirements
Before even filling out this application this clan does require you to be active on this 
site
, as well as 
in game
. We will remove you from the clan if you stay inactive. If you are going to be inactive for a certain period of time, please leave a post in the forums or Private Message a Moderator or Admin.
USE MOST RECENTLY OWNED COD STATS
*Copy this application and fill in answers after the colons and post it when completed*
Gaming System(s) You Own:PS3 (If on Wii U) NNID:
(If on PS3) PSN:KingSamson__
(If on 360) Gamertag:How you did you hear about us (If you were recruited, who recruited you?):Doug 
Age:14Location (City, State and/or country):Palm Bay, FloridaRank (Prestige/Level):prestige 3 level 21Win/Loss Ratio:0.42Kill/Death Ratio:1.03Favorite Gametype (Core, Hardcore, etc.):Core, League PlayWhat gamemodes do you usually play?:
FFA, HardPoint, Demolition, SnD
Weapon(s) of Choice:KSG,  Ballista, SCAR-HPerks/Equipment of Choice:Flak Jacket, Tactical Mask, Scavenger, Toughness, C4, Semtex, ConcussionMap(s) of Choice:Hijacked, Raid, & NuketownDo you have a PS3/Xbox360/Wii headset and/or Skype? :PS3 Astro A40, Skype Samson Quesnel, bufordxPrevious Clans, and Why You Left:NoneHow long have you been playing CoD series?:
Halfway through Ghosts
Multi Clanning/changing your "iS" tag is strictly prohibited and will get you banned. Do you understand? :
 Yes/No Yes
Rocket Launchers are allowed, however, the grenade launcher attachment is not. We don't mind you using it sometimes, but don't over-do it. Do you understand? :
 Yes/No
Yea
Glitching and hacking/boosting are also prohibited and will also get you banned. Do you understand? :
 Yes/No Yes

Best time to contact you for a tryout?
 : after 330 on Monday Wednesday and Friday and after 730 on Thursday and then anytime on teusday Saturday and Sunday 
Other Information you might want us to know:
I'm better than my stats say I am



Posts

: 1


Pointz

: 7218


Join date

: 2015-07-07



Looks good to me! idk bout the age tho...but if doug recommend you I guess its good! Contact me on PSN WaNt3D-xAim if you wanna do a tryout!
________________________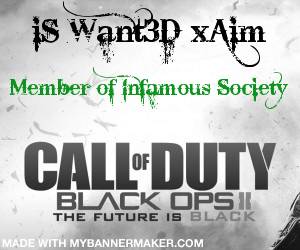 PS3 Division Leader





Status

: The greatest form of control is when you think you're free when you're being fundamentally manipulated and dictated to.
One form of dictatorship is being in a prison cell and you can see the bars and touch them.
The other one is sitting in a prison cell but you c



PSN Name

: WaNt3D-xAim


Skype

: wanted-xaim


Posts

: 1353


Pointz

: 13701


Join date

: 2012-11-23


Age

: 22


Location

: Norway



This was a solid 5 months ago wax lol
________________________
Founder





Status

: #xcislife
#swimislife
#laxislife



Steam

: JohnnyBStacks


NNID

: n/a


XBL Gamertag

: JohnnyBStacks


PSN Name

: YoItsJohnnyyB


Skype

: yoitsjohnnyyb


Posts

: 1672


Pointz

: 18912


Join date

: 2012-07-08


Age

: 20


Location

: Ewing, New Jersey



________________________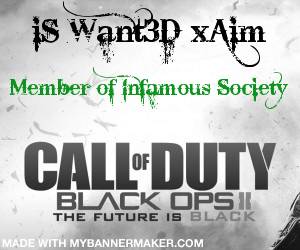 PS3 Division Leader





Status

: The greatest form of control is when you think you're free when you're being fundamentally manipulated and dictated to.
One form of dictatorship is being in a prison cell and you can see the bars and touch them.
The other one is sitting in a prison cell but you c



PSN Name

: WaNt3D-xAim


Skype

: wanted-xaim


Posts

: 1353


Pointz

: 13701


Join date

: 2012-11-23


Age

: 22


Location

: Norway



---
Permissions in this forum:
You
cannot
reply to topics in this forum