Gaming System(s) You Own:


(If on Wii U) NNID:
(If on PS3) PSN: Wynaut17
(If on 360) Gamertag:


How you did you hear about us (If you were recruited, who recruited you?): Google.


Age:18


Location (City, State and/or country):Miami, FL


Rank (Prestige/Level): lv10 Prestige 0


Win/Loss Ratio: 1.00


Kill/Death Ratio: 4.6 (pretty sure its not going to stay the same lol)


Favorite Gametype (Core, Hardcore, etc.): Tdm, S&D, Blitz


What gamemodes do you usually play?: Tdm


Weapon(s) of Choice: Mtarx, Regminton, and Vector


Perks/Equipment of Choice: Dead Silence, and Focus.


Map(s) of Choice: Warhawk, and Freight


Do you have a PS3/Xbox360/Wii headset and/or Skype? : Ps3 headset


Previous Clans, and Why You Left: None


How long have you been playing CoD series?: Mw3


Multi Clanning/changing your "iS" tag is strictly prohibited and will get you banned. Do you understand? : Yes


Rocket Launchers are allowed, however, the grenade launcher attachment is not. We don't mind you using it sometimes, but don't over-do it. Do you understand? : Yes


Glitching and hacking/boosting are also prohibited and will also get you banned. Do you understand? : Yes

Best time to contact you for a tryout? : 3pm-9:30pm EST Mon-Friday. Saturday anytime. Sundays I'm usually doing something with my family


Other Information you might want us to know: My aim is terrible tbh.
Looks like a good app. Is this going to be for PS3 or PS4? (we need to put something in the app to specify). 

Other than that, I'm hoping one of our guys can get you a tryout and actually put the results on site. Please be patient with our group as they are busy finishing school for the year and might be busy. I don't have ghosts so i can't really help out much sadly.
________________________
Trent smells like stinky fish but I still love him
Tony Stark





Status

: Goodbye, Nice to know you.



Steam

: TheStinkyRebel


NNID

: TheStinkyRebel


XBL Gamertag

: TheStinkyRebel


PSN Name

: TheStinkyRebel


Skype

: apittman373


Posts

: 2765


Pointz

: 16954


Join date

: 2012-01-17


Age

: 26


Location

: Lincoln



I can do it tonight? Add me. WaNt3D-xAim
________________________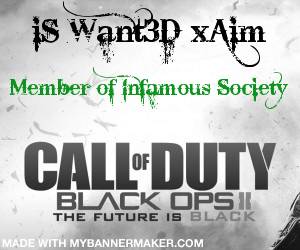 PS3 Division Leader





Status

: The greatest form of control is when you think you're free when you're being fundamentally manipulated and dictated to.
One form of dictatorship is being in a prison cell and you can see the bars and touch them.
The other one is sitting in a prison cell but you c



PSN Name

: WaNt3D-xAim


Skype

: wanted-xaim


Posts

: 1353


Pointz

: 13701


Join date

: 2012-11-23


Age

: 22


Location

: Norway



shit..I cant make it today...but just add me and maybe we can catch it tomorrow

________________________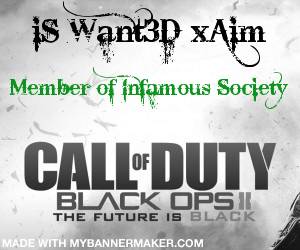 PS3 Division Leader





Status

: The greatest form of control is when you think you're free when you're being fundamentally manipulated and dictated to.
One form of dictatorship is being in a prison cell and you can see the bars and touch them.
The other one is sitting in a prison cell but you c



PSN Name

: WaNt3D-xAim


Skype

: wanted-xaim


Posts

: 1353


Pointz

: 13701


Join date

: 2012-11-23


Age

: 22


Location

: Norway



sounds good

---
Permissions in this forum:
You
cannot
reply to topics in this forum