Gaming System(s) You Own: PS3


(If on Wii U) NNID:
(If on PS3) PSN:HDL-C0D-N0xK0K3
(If on 360) Gamertag:


How you did you hear about us (If you were recruited, who recruited you?): WaNt3D-xAim


Age:15


Location (City, State and/or country):Round Lake, IL


BO2 Rank (Prestige/Level):8th 36


Win/Loss Ratio:43%


Kill/Death Ratio:1.36 I dropped a lot from trolling. I was at like a 1.47


Favorite Gametype (Core, Hardcore, etc.):Core 


What gamemodes do you usually play?:Domination


Weapon(s) of Choice:AN94 MP7 MSMC PDW Peacekeeper RPG Assault Shield


Perks/Equipment of Choice:Hardline Flak Jacket Scavenger Tactical Mask Dexterity


Map(s) of Choice:Nuketown Studio


Do you have a PS3/Xbox360/Wii headset and/or Skype? :Ps3 Headset and Skype


Previous Clans, and Why You Left:Heavens Deadly Legions - It got boring. Hiv - Never online. RTNs - They were being gay/ they kicked me out cause I went offline for a little while. I can't always be on the computer or PS3 whenever I want to.... My parents don't let me. >.<


How long have you been playing CoD series?: 2 years I think


Multi Clanning/changing your "iS" tag is strictly prohibited and will get you banned. Do you understand? : Yes/No YES


Rocket Launchers are allowed, however, the grenade launcher attachment is not. We don't mind you using it sometimes, but don't over-do it. Do you understand? : Yes/No YES


Glitching and hacking/boosting are also prohibited and will also get you banned. Do you understand? : Yes/NoYES

Best time to contact you for a tryout? : It depends my time going online varies. Just contact me when you can.


Other Information you might want us to know: LEGGO RPG RIOT SHIELD!!!!



Posts

: 2


Pointz

: 10584


Join date

: 2013-07-03



Thanks for applying dude. A PS3 division leader will get with you on setting up a time to do a tryout. You can add me for now though K_V3T-7X5. Welcome
________________________



Status

: Formerly Caveit77777



PSN Name

: K_V3T-7x5


Posts

: 236


Pointz

: 11360


Join date

: 2013-03-23


Age

: 25


Location

: Hilton Head Island



Thanks dude for choosing is even tho I know U had some other clans to choose.... I can do your tryout at anytime tomorrow or whenever the time is best for ya

 Just remember to count in EST

________________________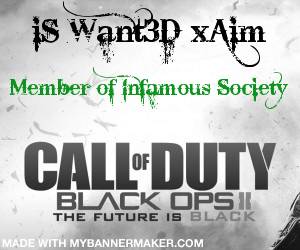 PS3 Division Leader





Status

: The greatest form of control is when you think you're free when you're being fundamentally manipulated and dictated to.
One form of dictatorship is being in a prison cell and you can see the bars and touch them.
The other one is sitting in a prison cell but you c



PSN Name

: WaNt3D-xAim


Skype

: wanted-xaim


Posts

: 1353


Pointz

: 13396


Join date

: 2012-11-23


Age

: 22


Location

: Norway



Similar topics
---
Permissions in this forum:
You
cannot
reply to topics in this forum