gaming System(s) You Own:
ps3


(If on PS3) PSN: joeyb100

How you did you hear about us (If you were recruited, who recruited you?):

you guys posted on my forum on activision website
Age:
29

Location (City, State and/or country):
albuquerque, nm, usa

BO2 Rank (Prestige/Level):

prestige 2 level 37
Win/Loss Ratio:
45%

Kill/Death Ratio:
1.12

Favorite Gametype (Core, Hardcore, etc.):
core

What gamemodes do you usually play?:

domination
Weapon(s) of Choice:
skorpion

Perks/Equipment of Choice:
hardline, ghost, cold blooded, engineer

Map(s) of Choice:
express

Do you have a PS3/Xbox360/Wii headset and/or Skype? :

i have a headset
Previous Clans, and Why You Left:
i havent really ever been in a clan. got in a clan right at the end of mw3 but noone was ever on so i left

How long have you been playing CoD series?:
since bo1

Multi Clanning/changing your "iS" tag is strictly prohibited and will get you banned. Do you understand? : Yes/No
yes

Rocket Launchers are allowed, however, the grenade launcher attachment is not. We don't mind you using it sometimes, but don't over-do it. Do you understand? : Yes/No
yes, i never use it

Glitching and hacking/boosting are also prohibited and will also get you banned. Do you understand? : Yes/No
yes, wouldnt even know how too.
Best time to contact you for a tryout? :

late night, after 10pm m,t,w,r
Other Information you might want us to know:
i just really want to join a guild that knows how to have fun and win in the process. i really do like winning but i having fun is what this game is all about. that being said i am a total team player and will do what it takes to win...including sacrificing my kd to get the win.
thanks for the consideration!

* We prefer you use stats from the most recent COD game. However, if you play an older COD game more often, then use that game's stats.

How Tryouts Will Work: You will do 2 public TDM and 2 public objective game types (with at least 1 Senior Ranked member of iS.) *1 of your choice, and 1 of the Senior members choosing.* We basically want to know how you play. Play normally/naturally. Results will be recorded and voted on by Leadership, upon receiving a majority vote you will become a Member of inFamous Society. Remember first impressions last forever. Good Luck.






Posts

: 83


Pointz

: 11805


Join date

: 2013-01-21


Age

: 35


Location

: new mexico



You'll fit right in bro. Someone will get you a tryout soon. Glad you decided to join!

________________________




Jebussssss





Status

: HAI, I'M TRENT.



Posts

: 4083


Pointz

: 22032


Join date

: 2010-12-09


Age

: 28


Location

: Gainesville, FL



Nice app lots of people on the ps3 for us now
________________________
Elite Member





PSN Name

: kFiB


Posts

: 502


Pointz

: 12493


Join date

: 2012-12-11


Age

: 25


Location

: Vancouver



Yea add me TheStinkyRebel,
We will probs get you tomorrow
________________________
Trent smells like stinky fish but I still love him
Tony Stark





Status

: Goodbye, Nice to know you.



Steam

: TheStinkyRebel


NNID

: TheStinkyRebel


XBL Gamertag

: TheStinkyRebel


PSN Name

: TheStinkyRebel


Skype

: apittman373


Posts

: 2765


Pointz

: 16954


Join date

: 2012-01-17


Age

: 26


Location

: Lincoln



Nice app
Add me too, "YoItsJohnnyyB".
________________________
Founder





Status

: #xcislife
#swimislife
#laxislife



Steam

: JohnnyBStacks


NNID

: n/a


XBL Gamertag

: JohnnyBStacks


PSN Name

: YoItsJohnnyyB


Skype

: yoitsjohnnyyb


Posts

: 1672


Pointz

: 18912


Join date

: 2012-07-08


Age

: 20


Location

: Ewing, New Jersey



I can get you a tryout whenever, add me iS_Duck

________________________


Add me on Playstation TheInfectedDuck-
Add me on Xbox oKingzzzz
PS3 Division Leader





Status

: Im Gay




NNID

: Lolol


PSN Name

: TheInfectedDuck-


Skype

: jaylonfisherr


Posts

: 1007


Pointz

: 13942


Join date

: 2012-07-25


Age

: 20


Location

: Charlotte NC



Nice app bro! looking forward to play with u! btw Add me on PSN: WaNt3D-xAim
________________________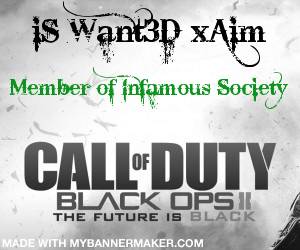 PS3 Division Leader





Status

: The greatest form of control is when you think you're free when you're being fundamentally manipulated and dictated to.
One form of dictatorship is being in a prison cell and you can see the bars and touch them.
The other one is sitting in a prison cell but you c



PSN Name

: WaNt3D-xAim


Skype

: wanted-xaim


Posts

: 1353


Pointz

: 13701


Join date

: 2012-11-23


Age

: 22


Location

: Norway



---
Permissions in this forum:
You
cannot
reply to topics in this forum